GIVE A DYING TREE A SECOND CHANCE AT LIFE !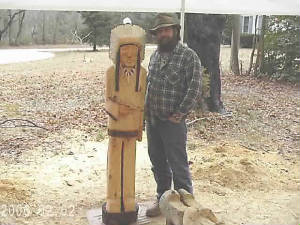 Hello, My name is Stephen A. Breden. My wife is
Mary Ann. Our daughter is Melissa, her husband
is Tim Conwell, and we have three grandsons thier
names are, Michael (the oldest),Billy (the middle child),and Stephen (the youngest). You will see
pictures of the grandkids throughout our web-site.

We are based in South Dennis, in Cape May County,
N.J. and offer free delivery, on large items, in
Cape May County. We will ship anywhere, at actual
shipping and crating fees. We will do our best to
minumize the cost of getting your artwork to you.

We hope you will give us a chance to carve something special for you, and become part of our family...

I do onsight carvings as well as special orders done
at my home, and shipped to you. I also have carvings
I do all the time available, for sale. Contact me
anytime, for availability and prices.